Lisa Jang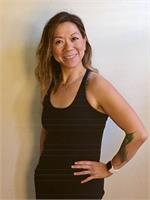 Lisa Jang, E-RYT, YACEP, AFAA (also known as "Lisa J") started taking fitness and yoga classes when she moved from British Columbia, Canada to the Bay Area in 1999. It was not long for her to realize how much she loved the enthusiasm, energy, and movement of the classes. Moreover, it became an outlet for her to deal with being homesick and a way to deal with the decline in her mother's health and eventually, her mother's death.
That same year, a local fitness manager saw Lisa's enthusiasm in class and approached her about getting accreditation to lead group fitness classes. Despite her initial trepidation, she decided to embark on her own teaching journey. It was a propitious beginning. Since then, Lisa has been leading group fitness and yoga classes since 2001. She has studied under some of the industry's most knowledgeable and skillful teachers. From the spearheads of Yin Yoga -- Bernie Clark, Paul & Suzee Grilley, to sought after Vinyasa teachers Noell Clark, Angie Poon, Clara Robert-Oss of Lila Vinyasa, Kathryn Budig of Aim True Yoga and Tiffany Cruikshank of Yoga Medicine, to the calm teachings of Restorative Yoga Teacher Tianne Allan of Semperviva Yoga and much more. Lisa has also attained several hours of acupressure training at McKinnon Body Therapy Center. She is always a student, always learning.
Lisa co-facilitates 200-Hour Yoga Teacher Trainings and leads her own Yin Yoga Teacher Training Programs at local East Bay and South Bay Yoga Studios. Lisa's Vinyasa classes are creative, fun and playful. Lisa's Yin and Restorative classes are compassionate to understanding everybody's unique needs.
Why yoga?
When I step on my mat, I feel connected to home. It connects me to my "Mum" (that's how we say Mom in Canadian). It becomes a place where I can be vulnerable. It takes me out of the yammering chatter in my head and allows me to listen my heart – where there is truth and wisdom.
Who or what inspires you?
My ancestors. My children inspire me. They are my muses. I see them and I want to fully present for them all the time. My brother and my sister always my rocks. The understand ME. Samuel Taylor Coleridge. Xanadu. Roller skates. Bruce Lee. Chang-Mu. Rainbows. Butterflies. The moon.
Three adjectives that describe you and your teaching style:
Compassionate. Witty. Knowledgeable.
Where are you the most fearlessly authentic in your life?
I want my work to have meaning, to touch lives and souls. I left my cushy job with a great title, a nice 401K plan with great health benefits with disapproval from others to follow my dharma. It is sometimes very scary and hard for myself and it feels like a roller coaster being so honest and truthful to myself. Sitting right in this makes me stronger every single day. I am not perfect, but I make my own meaningful decisions. I am genuinely grateful for everyday that I live doing what I love and being with whom I love.
What is something not a lot of people know about you?
I danced with a halau (Hawaiian dance group) for two years.
Lisa Jang is currently not instructing any classes.