Laura McCollum-Perkins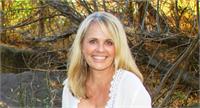 I have been on a lifelong journey with Yoga, beginning when I was a child, right here in the Bay Area, with a PBS TV show Lilias Yoga and You. After that introduction my Yoga laid dormant, for decades, until the 1990's, when I began taking classes at a local gym. I immediately fell back in love with the feeling of feeling, and practiced regularly for years. In 2007 I decided teaching might be for me. I took my first yoga training that year and then my second in 2016. I am a believer, and I get such a deep sense of gratitude when I am able to share Yoga with others.
Why yoga?
Yoga transcends my mind into my body, and lets me feel. I love the feeling of energy moving and flowing, with no expectation of outcome.
Who or what inspires you?
Life's ups and downs inspire me to be my best, and show up in the most authentic way possible. To be of service, and to love fully.
Three adjectives that describe you and your teaching style:
Dynamic. Friendly. Personal.
What is something not a lot of people know about you?
I love to spend time talking to the angels.
Laura McCollum-Perkins instructs the following:
In our non-heated Yin classes you will experience postures done on the floor or against the wall with supportive blocks, blankets,and bolsters. Poses are held for a longer period of time allowing you to stretch connective tissue. You may experience guided meditation woven into the class. Expect to leave feeling balanced, connected, and whole. Great for all levels.




Awaken to your seat.

This class will take you on a journey to raise your vibration and discover your bliss. Offering a beautiful balance of doing and just being. You will journey through movement - sometimes self-led, sometimes guided - ending with a meditation that will leave you feeling balanced, connected, whole and awake.