Christie Vella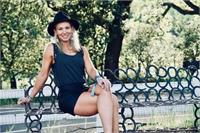 Why yoga?
Yoga heals in ways that nothing else has been able to. It opens up space in my mind, in my body, in my life. It's brought me closer to my true self and helped me to find my community. It's also just a ton of fun to learn how to push my body to the edge (safely). I still remember the first time I went upside-down in a class and thought "holy crap"! Plus, it's magic and who doesn't love magic.
Who or what inspires you?
Honestly and boldness. Perfectly imperfect people. Experiences that take your breath away and leave you wanting more. My kids, which are all these things and so much more.
Three adjectives that describe you and your teaching style:
Playful. Honest. Real.
Where are you the most fearlessly authentic in your life?
When I'm with my kids. When I'm in motion, be it yoga, or running or playing in 100 other ways. When I'm connecting with people. Honestly, these days, I'm more authentic than I've been in a long time.
What is something not a lot of people know about you?
I was born and raised in Wheeling, West Virginia. And I always claim it, even though most people are surprised by it. I completed an Ironman distance triathlon before I had my 3 kids.
Christie Vella is currently not instructing any classes.