Michelle Nicola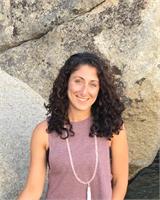 Why yoga?
Yoga has helped me go from being timid and a serial over thinker to confident and brave. Yoga connects me to my truth and my strength; it forces me to test all the small and limiting ideas I have about myself.
Who or what inspires you?
Nature inspires me. The way it accepts what happens all around and stands firm and rooted in the midst of great storms, cold and heat, darkness and light. People inspire me. When I see someone living into the fullness of their heart and purpose, I am energized in ways I can't fully describe.
Three adjectives that describe you and your teaching style:
Supportive. Energized. Loving.
Where are you the most fearlessly authentic in your life?
I am most fearlessly authentic when I love more than I think. I am the most fearlessly authentic when I can turn off the lists and scenarios in my head and live breath to breath. My mat has connected me to the truth that I can be fearlessly authentic in every aspect of my life.
What is something not a lot of people know about you?
Many people do not know that I once fractured my pelvis while slack lining over a pool.
Michelle Nicola is currently not instructing any classes.