Dara Karnofsky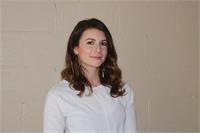 My love for yoga has grown naturally and progressively over the years. I used to practice because my body physically needed separation from high intense functional training. As I practiced more and more, I realized it was the only thing I needed to create unity between my mind, body and spirit. My desire to teach came from wanting to pass on the beautiful and ancient philosophies of yoga, and wanting to make an impact on my community like my teachers did for me. I feel whole and complete when I'm on my mat both practicing and teaching.
Why Yoga?
I cannot imagine a way of life that offers more than yoga does.
Who or what inspires you?
My teachers and my students inspire me in every way imaginable. The prospect of living in a world where every person lives to their fullest potential inspires me.
Three adjectives that describe your teaching style:
Authentic. Empowering. Humbled.
Where are you the most fearlessly authentic in you life?
When I'm driving in the car, I sing at the top of my lungs and I don't hold back one bit.
What is something not a lot of people know about you?
I don't think there's anything...I'm an open book!
Dara Karnofsky instructs the following:
Dynamic flow-based yoga. Recommended for those having a familiarity with Sun Salutations A and B.

Power Vinyasa flow is a rigorous, sweaty yoga practice stemming from the ashtanga tradition. Poses are held for shorter periods of time and will link one breath with motion, creating a dynamic and fluid 'meditation in motion.' This is a hot, sweaty fun practice often set to fun, fluid, dynamic music. You will leave inspired and ready to shine off the mat!

Room heated to 85-88 degrees.