Jay Pinkos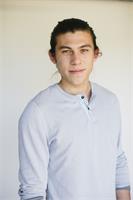 I never did plan to become a yoga teacher nor did I plan on having yoga be my predominant physical, mental, and spiritual practice. In fact, at one point in my yoga journey, a yoga teacher of mine asked me what other practices I was currently doing. I told her I was really engaged in Olympic Weightlifting and functional training and she responded with something along the lines of "Maybe one day yoga will be all that you want and need". I said "yeah maybe it will be" but in my mind I was completely refuting this claim thinking that yoga would never be enough. Some time later I've stopped searching because yoga has helped me realize what I truly want and need, which is a deep connection to self, to others, and to all life. Now yoga is not just a physical practice but a life practice.
Why yoga?
Yoga is my way to learn about myself and to grow in a way where I'm better able to share and give to others.
What inspires you?
The hope to bring more happiness to the world through health, movement, and community.
Three adjectives that describe you and your teaching style:
Thoughtful. Passionate. Serene.
Where are you the most fearlessly authentic in your life?
Anytime I'm in the elements of nature- surfing, hiking, golfing, with a new interest in mountain climbing.
What is something not a lot of people know about you?
There's not too much I don't tell people so if you get to know me, you'll get to know my authentic self.
Jay Pinkos is currently not instructing any classes.