Stephanie Eistetter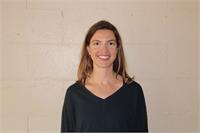 I'm an East Bay native and started yoga just over three years ago. My first class was on a paddleboard! In the Fall of 2015 I completed my first 200 hour teacher training with Just Be. Such an incredible experience! I've been teaching and assisting since the beginning of January and love every minute of it.
Why yoga?
The physical practice has given me an opportunity to fall (repeatedly) and pick myself up in a safe space which has led me to feel emboldened in my everyday. That moment when I experienced my first arm balance, or the first time I got into headstand were so joyous and exciting. I have so much room to grow through the asanas. There are so many poses I can't do...yet, and it feels so good to know there are so many poses to look forward to. Yoga also tricked me into figuring myself out and becoming a much better friend to myself. The journey continues...
Who or what inspires you?
I'm inspired by people who are self aware, who are willing to do the sometimes-ugly-but-always-worth-it process of personal growth.
Three adjectives that describe you and your teaching style:
Humorous. Genuine. Supportive.
Where are you the most fearlessly authentic in your life?
I'm most authentic when I'm on my mat and when I'm connecting with my family and close friends
What is something not a lot of people know about you?
I love NFL football and Paul Rudd.
Stephanie Eistetter instructs the following:
Gentle Flow is offered in a non-heated room. This blissful practice focuses on moving slowly into basic yoga poses while using the breath as a tool to remain present and mindful. The slow pace of this class allows you to enjoy each pose. Expect lots of stretching and lengthening with a heavy dose of relaxation to wrap up your practice and leave you feeling great. Classes are suitable for beginners as well as advanced students. Non-heated class.