Courtney Clark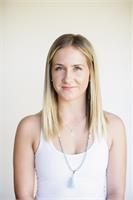 Courtney received her 200-hour Yoga Teacher Certification in 2015 from Yoga Six in San Diego, California. Her second training was a 200-hour with Just Be and her thrird a 300-hour with Bryce Yoga in Thailand. She is currently pursuing a bachelor's in Psychology. A natural teacher and leader, she is passionate about the immense amounts of growth that yoga brings: physically, mentally, emotionally, and spiritually. She is dedicated to helping others reach their best self. Without yoga, Courtney would not be who she is today. At first, she fell in love with yoga for its physical benefits. Growing up a competitive athlete, she craved the physical challenge. Then she began to notice subtle changes. She felt that while getting an amazing workout, she was also feeling more relaxed in her daily life. This led to an inquiry of yoga as a way of life, and how it can positively transform us into happy, confident, loving human beings. She absolutely loves people and wants to impact as many lives as she can through yoga.
Why yoga?
It inspires me more than anything ever has. It makes me feel a way that I have never felt before. It has changed my life in the best ways possible and I cannot imagine life without it!
Who or what inspires you?
People inspire me. People's unique stories inspire me. Seeing other's passion, creativity and determination. Music inspires me. Food inspires me. Practicing yoga inspires me!
Three adjectives that describe you and your teaching style:
Passionate. Genuine. Inspiring.
Where are you the most fearlessly authentic in your life?
I am the most fearlessly authentic in my pursuit to live a completely non-average life. I am determined to be inspired by something every single day. And I am committed to making a change if I am not satisfied with where things are. I want to learn continuously and be the best I can be in all that I do.
What is something not a lot of people know about you?
I have a wiener dog named Moose, and he is my best friend!
Courtney Clark is currently not instructing any classes.