Kelli Barnett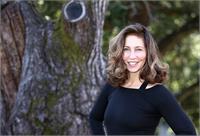 Why yoga?
I love living my life around a system of health. And yoga always has something for every phase of life. Athletic, contemplative, healing, creative. Whatever your interest, or ability, yoga has a branch growing in that direction. One can be introspective and calm or externally manifested. With study and the teachings all can be expressions of a healthy body and mind.
And It's fun to feel your life. It's fun to help other people feel their lives.
Who or what inspires you?
All aspects of the natural world when it is free and unfettered. I believe when we love the vivid blue of the sky or the white of snow we are loving ourselves and feeling the sensation of gratitude for our lives. Then I try to invite that feeling of space, and sensation of gratitude to the shapes and postures that are within my reach to teach.

Three adjectives that describe you and your teaching style:
Slightly unpredictable. Spontaneous. I don't know another adjective but I do know the phrase I've heard the most over the years is "I never know where I'm going in your class, but I like where I end up"
Where are you the most fearlessly authentic in your life?
When I've done my homework and I call sincerely to the "teachers' and then I just wait for the words and sequence to flow. In short- when I'm waiting and fully expecting the sparks of creativity to fly.

What is something not a lot of people know about you?
I really want to go to cheese making school.
Kelli Barnett instructs the following:
This dynamic class is designed to connect you to your physical body and your spiritual ethereal body. Come prepared to witness your experience in this class, because each class is different, we are guided to drop our expectations of yoga and of ourselves. These classes are a unique exploration of how yoga impacts our physical and mental forms both on and off of the yoga mat. You will leave feeling connected, strong, and inspired. Classes are done in a heated or non-heated environment depending on the teacher. Great for all levels.




Awaken to your seat.

This class will take you on a journey to raise your vibration and discover your bliss. Offering a beautiful balance of doing and just being. You will journey through movement - sometimes self-led, sometimes guided - ending with a meditation that will leave you feeling balanced, connected, whole and awake.




Gentle Flow is offered in a non-heated room. This blissful practice focuses on moving slowly into basic yoga poses while using the breath as a tool to remain present and mindful. The slow pace of this class allows you to enjoy each pose. Expect lots of stretching and lengthening with a heavy dose of relaxation to wrap up your practice and leave you feeling great. Classes are suitable for beginners as well as advanced students. Non-heated class.