Natalie Shapiro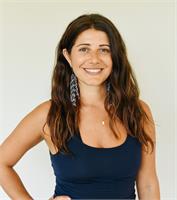 As a 200 E-RYT, Natalie applies yoga as a therapeutic practice for the mind, body and soul. Ten years ago, in an attempt to access warmth through heated yoga while living in the Netherlands, Natalie very quickly learned yoga offered much more than heat, and it soon became a consistent and deepening practice. Her classes are designed to safely align her students in order to offer them the freedom to deepen into their particular and unique practices. She teaches asana, pranayama and meditation as platforms for students to access the depth of their own essence, and as a means for healing and transformation. In addition to yoga, Natalie is a guide of ceremony and ritual, and also offers a range of 1-on-1 healing and expanding modalities. She is a healer and activist at heart, and always seeks to offer the experience of meaningful freedom.
Why yoga?

Yoga offers direct access to the landscape of our human experience. It is often when we finally center and ground our body and energies, that we come to know ourselves and the world in a deeper, fuller way.
Who or what inspires you?
My teachers and mentors inspire me daily. These guides continue to teach me how to live and offer myself with both compassion and wisdom.
Three adjectives that describe you and your teaching style:
Grounding, opening, re-membering.
Where are you the most fearlessly authentic in your life?
This is an ongoing and every-shifting journey. But at the moment, I feel the most fearlessly authentic in my relationship to the earth and how I am here to stand for Her, and the incredible life she creates.
What is something not a lot of people know about you?
Hmmm. Naps are my favorite.
Natalie Shapiro instructs the following:
Dynamic flow-based yoga. Recommended for those having a familiarity with Sun Salutations A and B.

Power Vinyasa flow is a rigorous, sweaty yoga practice stemming from the ashtanga tradition. Poses are held for shorter periods of time and will link one breath with motion, creating a dynamic and fluid 'meditation in motion.' This is a hot, sweaty fun practice often set to fun, fluid, dynamic music. You will leave inspired and ready to shine off the mat!

Room heated to 85-88 degrees.




In our non-heated Yin classes you will experience postures done on the floor or against the wall with supportive blocks, blankets,and bolsters. Poses are held for a longer period of time allowing you to stretch connective tissue. You may experience guided meditation woven into the class. Expect to leave feeling balanced, connected, and whole. Great for all levels.




Gentle Flow is offered in a non-heated room. This blissful practice focuses on moving slowly into basic yoga poses while using the breath as a tool to remain present and mindful. The slow pace of this class allows you to enjoy each pose. Expect lots of stretching and lengthening with a heavy dose of relaxation to wrap up your practice and leave you feeling great. Classes are suitable for beginners as well as advanced students. Non-heated class.