Natalie Shapiro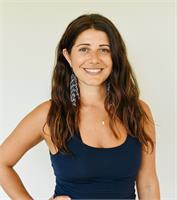 As a 200-RYT, Natalie applies yoga as a therapeutic practice for the mind, body and soul. Eight years ago, in an attempt to access warmth through heated yoga while living in the Netherlands, Natalie very quickly learned yoga offered much more than heat, and it soon became a consistent and deepening practice. After years of a personal practice, Natalie received her training under Megan Whitney and Jenn Bobbitt at Yoga Centre SLO. Her teaching style is designed to safely align her students in order to offer them the freedom to make it their personal practice. She teaches asana, pranayama and meditation as platforms to move deeper into one's self and as a means for healing and transformation. In addition to teaching yoga, Natalie is a Strategic Coach working with women to find peace with food and their bodies. She is a healer at heart and is always seeking to offer her students and clients the experience of meaningful freedom.
Why yoga?
Breath. Embodiment. Freedom. When my body meets the mat, everything drops back to center. The mind releases its restraints and I come back to soul. Finding the balance between strength and ease in the body and mind is a beautiful part on the journey.
Who or what inspires you?
My teachers, guides, and mentors inspire me daily. These guides have taught me how to live with more compassion and wisdom - learning how to let go while also standing firm.
Three adjectives that describe you and your teaching style:
Grounding, opening, home-coming.
Where are you the most fearlessly authentic in your life?
This is an ongoing journey. But at the moment, I feel the most fearlessly authentic when it comes to my voice and how I use it. Feeling more and more clear that what comes through me has value and is worth sharing.
What is something not a lot of people know about you?
Hmmm. Naps are my favorite.
Natalie Shapiro instructs the following:
Dynamic flow-based yoga. Recommended for those having a familiarity with Sun Salutations A and B.

Power Vinyasa flow is a rigorous, sweaty yoga practice stemming from the ashtanga tradition. Poses are held for shorter periods of time and will link one breath with motion, creating a dynamic and fluid 'meditation in motion.' This is a hot, sweaty fun practice often set to fun, fluid, dynamic music. You will leave inspired and ready to shine off the mat!

Room heated to 85-88 degrees.




In our non-heated Yin classes you will experience postures done on the floor or against the wall with supportive blocks, blankets,and bolsters. Poses are held for a longer period of time allowing you to stretch connective tissue. You may experience guided meditation woven into the class. Expect to leave feeling balanced, connected, and whole. Great for all levels.




Awaken to your seat.

This class will take you on a journey to raise your vibration and discover your bliss. Offering a beautiful balance of doing and just being. You will journey through movement - sometimes self-led, sometimes guided - ending with a meditation that will leave you feeling balanced, connected, whole and awake.