Melissa Cordova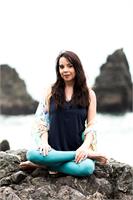 Melissa was a gymnast as a young girl growing up in San Francisco. Retiring from gymnastics at the age of 16, she went on to pursue other forms of exercise, including dance and aerobics. She was a member at a large gym when she noticed the serene expressions on the faces of people exiting the yoga classes. She decided to open the door and lay out a mat one day. That day forever changed her life and her path. Shortly thereafter, she quit the gym and joined the Just Be Yoga community as a student. Melissa soon felt called to assist and participated in Just Be Yoga's assisting workshops in 2014. As she deepened her practice and her ties to the community grew, her path led her to Just Be Yoga's 200 hour teacher certification program, which she completed in December 2014. Melissa has a special love and intuition for providing hands-on assists in class. Whether it is to help a student find a pose, deepen a pose, or just spread some love, assisting brings her as much joy as practicing and teaching. Why yoga?
Like many yogis, I found yoga during a difficult phase of life. It soothed me, helped me heal, gave me hope, taught me to shift my perspective, taught me to let go, and most importantly taught me to love myself. And that was just the beginning. Over the years my mat has become my heart's home. It absorbs my sweat, my tears, bears witness to my struggles, my accomplishments, and growth. There is no ceiling to hit in yoga, the lessons are endless.

Who or what inspires you?
My teachers, my students, my son, my mom, my friends, my Joe, books, nature, people who have faced and conquered their fears and people who strive to make the world a better place.
Three adjectives that describe you and your teaching style:
Loving. Playful. Encouraging.
Where are you most fearlessly authentic in your life?
In my relationships with people and on my mat.
What is something not a lot of people know?
I used to smoke cigarettes.
Melissa Cordova instructs the following:
Gentle Flow is offered in a non-heated room. This blissful practice focuses on moving slowly into basic yoga poses while using the breath as a tool to remain present and mindful. The slow pace of this class allows you to enjoy each pose. Expect lots of stretching and lengthening with a heavy dose of relaxation to wrap up your practice and leave you feeling great. Classes are suitable for beginners as well as advanced students. Non-heated class.