Caramia Tambornino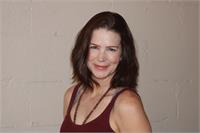 Caramia began practicing yoga in 1979 in Minnesota at Shanti House, a home for homeless and recovering teens. Throughout her adult life, she felt compelled to connect and give back, she served as a wellness advocate and found herself in the Bay Area as Director of Marketing for Brown & Toland Medical Group, a prestigious San Francisco Medical Services organization.
Due to a busy social and career life, along with parenting two children, her yoga practice (along with other things) slipped to the side. In 2007, with an urgent need to heal and transform, coupled with a burning desire to help those in need of REAL health care, she made a bold decision to return to the mat, and enrolled in YogaWorks teaching training program.
Guiding her students to physical and inner strength, Caramia began sharing and teaching the transformative power of yoga immediately upon completing her initial training and went on to complete the YogaWorks 500 hour advanced studies program.
Nickname (s) Mama Mia and Car.
Astrological sign? Pisces - Fishee Girl
Favorite food: Cherries!!!
Favorite vacation spot: Maybe Palm Desert, or Lake Tahoe - The happiest memories of my life so far were being in these places with my children when they were little.
Why yoga? My skin fits better and everything makes sense after practice.
What brings you back to your mat? Ultimately, the desire for self exploration, acceptance and freedom.
What are you most grateful for? My children, clean air, clean water, humor, and my children.
What makes you tick/light up? The evening sky and dancing.
What are your guilty pleasures? Getting lost on day long city walks that span into the evening, (sometimes with a friend, sometimes alone) that include good coffee, light delicious meals, art, and.........shopping for lipstick, jewelry ....anything pretty.
Share something about yourself that others would be surprised to know? I smoked filterless Camels and drank straight whiskey when I was an androgynous punk rocker.
If you had one wish for the Just Be Yoga community what would it be? To not get corporate and cliquey.
Caramia Tambornino instructs the following:
In our non-heated Yin classes you will experience postures done on the floor or against the wall with supportive blocks, blankets,and bolsters. Poses are held for a longer period of time allowing you to stretch connective tissue. You may experience guided meditation woven into the class. Expect to leave feeling balanced, connected, and whole. Great for all levels.




Dynamic flow-based yoga. Recommended for those having a familiarity with Sun Salutations A and B.

Power Vinyasa flow is a rigorous, sweaty yoga practice stemming from the ashtanga tradition. Poses are held for shorter periods of time and will link one breath with motion, creating a dynamic and fluid 'meditation in motion.' This is a hot, sweaty fun practice often set to fun, fluid, dynamic music. You will leave inspired and ready to shine off the mat!

Room heated to 85-88 degrees.




Gentle Flow is offered in a non-heated room. This blissful practice focuses on moving slowly into basic yoga poses while using the breath as a tool to remain present and mindful. The slow pace of this class allows you to enjoy each pose. Expect lots of stretching and lengthening with a heavy dose of relaxation to wrap up your practice and leave you feeling great. Classes are suitable for beginners as well as advanced students. Non-heated class.