Michaela Kissinger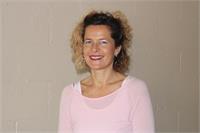 Michaela found her path toward yoga shortly after moving to the US in 2000 from Germany where she was born and raised. Never having been an athletic, bendy kind of person she didn't think yoga was it for her. As life in a new country threw one curveball after another at her she got invited to step onto the yoga ride by a friend and never looked back. Inside the cocoon of a cozy, dimly lit yoga room, Michaela felt as though she finally slipped into her body. Over time and with practice she was amazed at how strong and reliable her body and mind were. Yoga gave her the courage to embrace life's challenges in another way, from fierce warrior to peaceful goddess. Originally trained in the Ashtanga style, Michaela is fascinated by the various styles of yoga and considers herself fortunate to have studied with experienced teachers of Iyengar, Yin, Restorative, Flow and prenatal yoga. About to complete her 250 hour massage practitioner certification, Michaela likes to incorporate her knowledge of acupressure/meridian massage and hands-on adjustments. Yoga and movement is an integral, healing part of her daily life. She wants her students to experience yoga for themselves just as they are for whatever their need is in the moment. There's a yoga style and teacher for everybody at any age. When you come to Michaela's class be prepared for a fun vinyasa blend that will challenge and empower you. You'll leave smiling, centered and ready to tackle the world.
Astrological sign? - Leo
Favorite food - anything fresh, homemade and GMO free/organic
Favorite vacation spot - somewhere in the mountains or by the ocean
Why yoga? - it's my way back home to my body. It grounds me and allows me to fly - all at the same time
What brings you back to your mat? One day OFF my mat!
What are you most grateful for? Health, Beauty, longtime friends and family who know me like nobody else and the choice I made over 10 years ago to follow my heart
What makes you tick/light up? Following my passions
What are your guilty pleasures? SCHOKOLADE, hands down!
Share something about yourself that others would be surprised to know? I'm a native German and CANNOT stand beer!
If you had one wish for the Just Be Yoga community what would it be? That we find true connections with other students and teachers, that we get to know each other beyond the color of our mats and that we find comfort and support for our life's paths as we practice in each other's company.
Michaela Kissinger instructs the following:
Gentle Flow is offered in a non-heated room. This blissful practice focuses on moving slowly into basic yoga poses while using the breath as a tool to remain present and mindful. The slow pace of this class allows you to enjoy each pose. Expect lots of stretching and lengthening with a heavy dose of relaxation to wrap up your practice and leave you feeling great. Classes are suitable for beginners as well as advanced students. Non-heated class.




In our non-heated Yin classes you will experience postures done on the floor or against the wall with supportive blocks, blankets,and bolsters. Poses are held for a longer period of time allowing you to stretch connective tissue. You may experience guided meditation woven into the class. Expect to leave feeling balanced, connected, and whole. Great for all levels.