Jessica Micheletti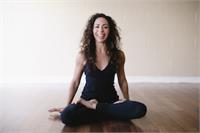 Jessica Micheletti hails from Minnesota, has traveled the world and recalls her first experience volunteering at 7 years old at a soup kitchen in downtown Minneapolis. She worked for 15 years in Public Health and 7 years ago stepped away from government work to teach power vinyasa yoga and explore the facets of a life of service. Jessica is a yogi, runner, retired triathlete, philanthropist, and yoga development consultant. She loves trying new things, wine, and cheese. Upon turning 40 she decided that resistance to cupcakes is futile, but moderation reigns. Rock, rap, and top 40 frequently make appearances in her yoga classes and she loves to share stories about her travels, her family, and really anyone who graces her path. She can find a yogic meaning in almost anything. Each day she wakes up and asks, "How can I serve today?". She's passionate about guiding others to discover and realize their dreams. Jessica believes in miracles.
Jessica is certified through the Yoga Alliance as a Experienced-Registered Yoga Teacher 500 and is a certified Baptiste Yoga Teacher.
Nickname(s): JM or Jessie or Micheletti
Astrological sign? Taurus
Favorite food(s): wine, cheese, bread
Favorite vacation spot(s): any beach, any where, any time
Why yoga? it reminds me that anything is possible
What brings you back to your mat? connection and freedom
What are you most grateful for? family (biological and chosen)
What makes you tick/light up? love - being it, seeing it, creating it
What are your guilty pleasures? netflix
Share something about yourself that others would be surprised to know? I can't not finish a book I start...no matter how bad it is
If you had one wish for the Just Be Yoga community what would it be? Every time someone steps inside the studio they feel like they're home
Jessica Micheletti instructs the following:
Dynamic flow-based yoga. Recommended for those having a familiarity with Sun Salutations A and B.

Power Vinyasa flow is a rigorous, sweaty yoga practice stemming from the ashtanga tradition. Poses are held for shorter periods of time and will link one breath with motion, creating a dynamic and fluid 'meditation in motion.' This is a hot, sweaty fun practice often set to fun, fluid, dynamic music. You will leave inspired and ready to shine off the mat!

Room heated to 85-88 degrees.




Yoga Nidra (yogic sleep) is a powerful practice of guided relaxation that offers great healing potential for the body, mind and spirit. First, prepare the physical body through pranayama (conscious breathing exercises) and a few yin postures to ground and create inner awareness. Once the body is ready for rest, experience a 40-minute meditation while lying in savasana. Explore this opportunity to exist between wake and slumber — where all things are possible. Bring any props (blanket, eye pillow, bolster, etc.) that create a comfortable and safe space for you to practice with ease and go deep within. Great for all levels.




This class is a twist on the yogic tradition where students come to practice with a teacher at sunrise. Teachers and students move through traditional sun salutations together and then create a dynamic flow-based class to ambient morning beats to greet the day free and clear. This experience is a great way to connect to the community and your fellow yogi's. Breathing and moving together reminds us that we are more the same than we are different and through this connection we light up the day! Every class is different yet accessible for all those willing to listen to their body.